September 21, 2005
Why Move When You Can Burn It Down?
I'm a huge moron! Let's just get that out in the open.
As soon as I got home today, I lit all my candles. I have 4 candles in the bathroom that I only light occasionally. Tonight I did. After the place was smelling pretty, I blew out all the candles.
I had a friend over and we were watching a movie. All of a sudden, my smoke alarm goes off. I'm looking around and none of my candles are lit, I go to turn the alarm off, which is next to my bathroom and see a HUGE FLAME from the back of my toilet!!
"Oh shit!!" I'm yelling trying to blow it out while keeping my hair back. He comes in with a glass of water and tosses it on the fire.
It goes out.
There's wax all over my floor and toilet.
The problem? (other than that I am a moron?)
The candles had little leaf like string around each one for decoration. Damn forestry around my candles!
What were they sitting in? A wooden candle holder.
I'm such a moron! When I have burned these in the past, I have always been sure to not leave them burning long. I had forgotten all about them this time!
Meanwhile, my friend is trying to get the smoke detector to shut up. He's opening the front door, turning on the fan, waving a towel in front of it. I'm glad he was here as I hate messing with stupid smoke detectors!
I thought I would share a picture of the mess...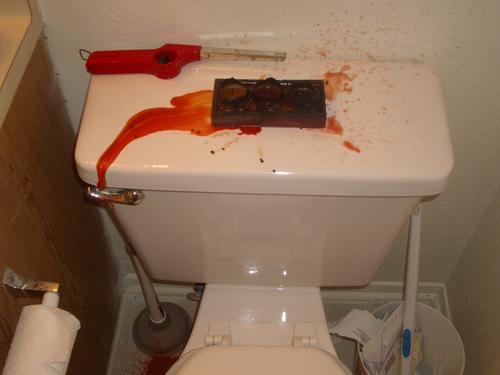 I can pull the back toilet cover up with the candle holder as it is now stuck to it!
It looks like someone puked in my bathroom!
I'm such a mess.....domestic I am not!
UPDATE:
Now that I think about it, I've had a few issues with fire in the past. Two that I can think of off the top of my head.
Look for more fire stories in the near future!

Posted by Sissy at September 21, 2005 10:36 PM | TrackBack