September 27, 2005
They Knew!
As I was going to my bedroom, I saw a big black thing on the floor. I turned on the lamp and there was a huge ass Palmetto Bug!
I know the drill! Scream! Get chills! Put on tall shoes! Go to the sink to get bug spray!
Wha? No bug spray!
I had thrown it away this morning when I thought the movers were going to be packing me! I didn't care...I dug through the trash for it!
I found it, stood about 6 feet away from the bug while leaning over and drenching the fucker in bug spray! Yea, about half a can should do it!
They KNEW that I had thrown away my bug spray! They just knew!
And since it was in my bedroom, I will NOT be able to sleep tonight! This blows!
And you all wonder why I'm getting the hell out of this bug infested state!
Need proof? Here's a picture! I even threw my remote down next to it for comparison! This thing could eat your young!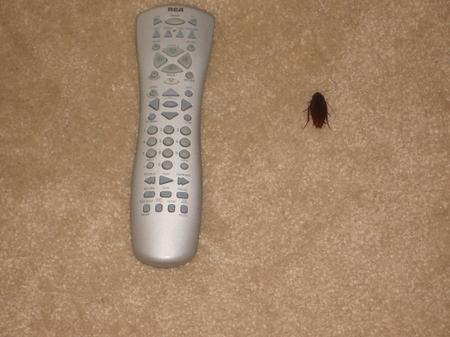 Posted by Sissy at September 27, 2005 09:56 PM | TrackBack