November 29, 2005
Happy Birthday Spurs!!
Today is my blogson's birthday!
Napster wrote a great post about him here. And it's all true!
Spurs is an all around great guy! If we could ever get him to a blogmeet, he'd be the life of the party. This is the kind of guy that could make yard work fun!
I'm lucky to have Spurs as a friend! So go on and wish him a Happy Birthday and have some drinks for him!
His present is below....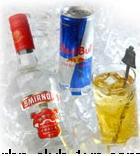 Here's to plenty of these in Vegas!!
Posted by Sissy at November 29, 2005 12:00 PM | TrackBack