November 02, 2005
To Think, I Almost Didn't Go! Part I
Things are busy! I am working 12-13 hours a day, 6 days a week. I have a social life. I am living out of suitcases and sleeping on an air mattress. I'm looking for a house. Any spare moment I get, I need! I almost didn't go to Tennessee.
Then, I was sick. I felt like I was coming down with the flu! I almost took it as a sign that I should stay behind. Instead, I crossed the border to Mexico to get some Ampicillin and Naproxen to fight this bug! Along with Benadryl and Airborne, I was either going to kill it or piss it off!
Not to mention I was dreading my trip to get to TN considering all the travel I have done in the recent months. I had to drive 3 hours to Phoenix, wake up at 4:30 am to go to the airport, fly to Houston, fly to Atlanta, take the Marta to Morrigan's work. This was just to get to Atlanta….
….It was worth it!
It started off great with a beautiful drive with Bou and Morrigan through Northern Georgia and Tenneessee. The leaves were changing, the sky was clear and the car was full of laughs! I was so very happy!
We stopped at Ed's World of Concrete. Bou has the FULL STORY, while I have the picture!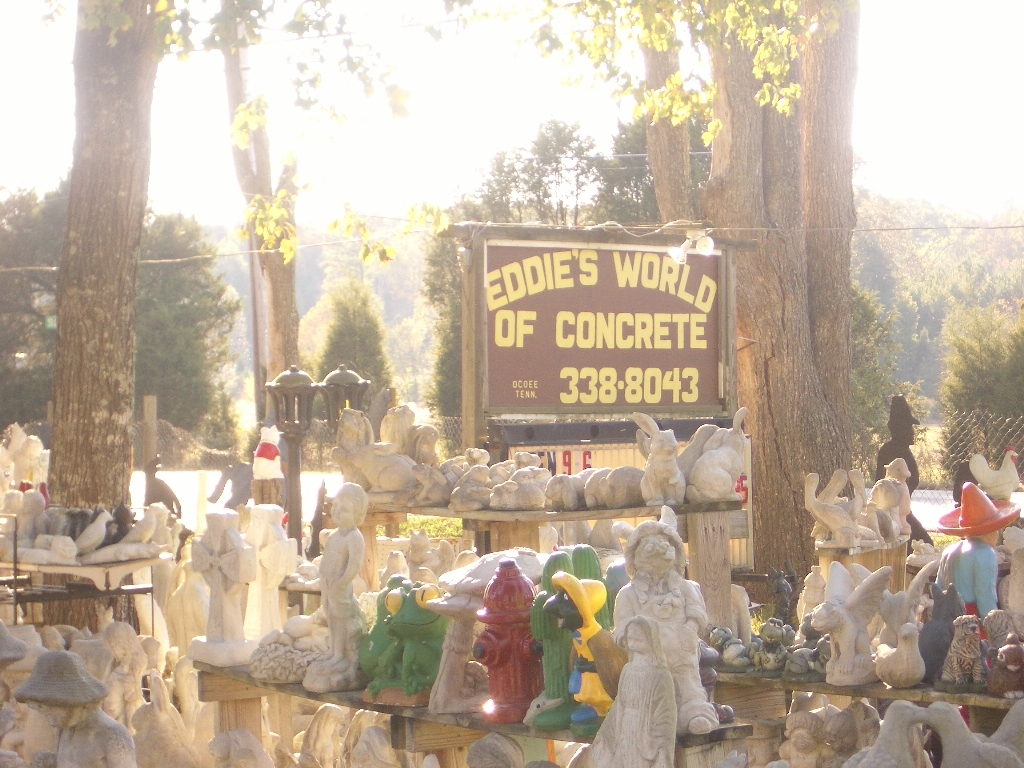 Then we got to our destination. This technology dependent girl was in a town with no wireless phone service! I will admit I was scared! I was going to meet all these people I didn't know, possibly hadn't read and who had no idea who I was. I was the youngest person there and possibly the quietest….WITH.NO.PHONE!
I should have known better! I met some of the best people! The first evening Tammi took over the kitchen and made her blog famous Mexican Manicotti. They were devoured! Eric had a great fire going out back. I am afraid Morrigan and I hogged the fire as it was freaking cold! I am still surprised how neither of us were caught on fire by flying embers, that's how close we were!
Then the music and warmth of the house called us in. This is where some of the guys played guitar for us. I could have listened to these guys all night! And who would have known that we had a great kazoo player!
We made it an early night to rest up for the next day's events.
Part II coming soon....

Posted by Sissy at November 2, 2005 05:00 PM | TrackBack

»
Key Issues
links with:
New Blood!
»
She Who Will Be Obeyed!
links with:
A good time was had by all