December 09, 2005
More Randomness
I had a crackhead customer come in today and threaten to blow up my house and beat me...
...I wonder if I would get workman's compensation for that?
If it's snowbird season, why can't I carry a gun?
There's something amusing about a drunk 80 year old man at 11 am telling me that I'm a fucking idiot and that the company I work for is Satan in disguise. What's funnier is when he wants me to turn his service back on or swap his equipment.
There is a such thing as too many jarheads! Hate to break it to you, but there is!
"Hi, I have a wife and 4 kids 3000 miles away, wanna fuck?" is not a good pick up line.
Repeating my name 30 times throughout the night does not make me want you any more than a root canal.
If your seat is no longer there when you come back from getting a drink, it wasn't an accident!
Kicking down the door to the bathroom while I'm in it will not make you cool. Strike One!
Throwing ice at random tables because you are mindlessly drunk will not make you cute. Strike Two!
The chic disappeared before Strike Three!
One of the best things in Yuma...$1.50 breakfast at the casino at 2 am. Scrambled eggs, hash browns, bacon, gravy and toast. Yum!!
Don't assume a guy is gay until you have actual proof!
There is a difference between innocently flirting with a gay guy and having said gay guy blatantly ask to grab your ass. (Note, gay guy wasn't gay)
And just because I tell you no, doesn't mean your friend can either.
I have been sick with some sort of body malfunction since I've been here. Between my nose, my throat, my head, my stomach, and needing a toilet at any given second.....I think it's a BIG NEON SIGN that I do not belong here!
Oh...and ya wanna know what I'm doing when I'm not at work and not blogging....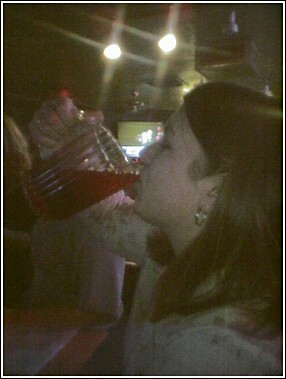 Posted by Sissy at December 9, 2005 11:56 PM | TrackBack