December 12, 2005
Chile Pepper
There is a restaurant here in Yuma that everyone has been addicted to at one time or another. When I lived here 3 years ago, it was a weekly, sometimes daily routine! Rolled Tacos, delicious salsa, bean and cheese burritos (if you like beans), carne asada burritos...good stuff.
People from Phoenix, Tuscon and Sierra Vista are sure to stop by Chile Pepper and pick up food to take home. It's quite possibly an addiction. You can see some reviews here.
Customers who ate at Chile Pepper between May 25th and June 2nd of this year were exposed to Hepatitis A due to an infected employee.
...Officials estimated between 6,000 and 8,000 persons could have been exposed to the infection and said anyone who ate or drank at Chile Pepper, 1030 W. 24th St., between May 25 and June 2, may have been exposed....

...Regarding the restaurant, despite repeated statements by public health officials that the restaurant remains a safe place to patronize and has a good record, business at Chile Pepper is down considerably.

John Gutierrez, whose family owns the restaurant and two others in the area, said: "It's probably (down) by 80 percent."

The restaurant typically serves 1,200 to 2,000 people per day.
I wasn't here for this...but I heard about it from everyone. When I got back to Yuma, one of the first places I stopped was Chile Pepper. I was warned...but hey, shit happens.
Then, a few weeks ago, some of my employees ordered from there to find a worm in their salsa.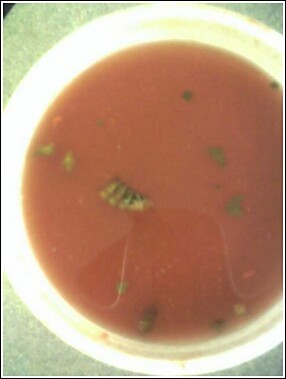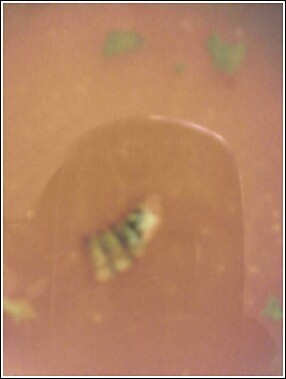 My employees called the health department and someone met them at the restaurant. The manager gave my employees their money back and said they were sorry but that they couldn't help it that the worms came in with the chili's they use for the salsa.
And that was it....
So needless to say, my employees have been showing EVERYONE these pictures.
Well, Saturday, I had a serious craving for some Chile Pepper. No one would join me. When I was teased, I joked that I needed some time off so I was going to eat Chile Pepper. I went and ordered my tacos and brought them to work. I dissected the tacos and investigated the salsa for worms or any other weird things...
This brings us to today. Where I am blogging after being at the hospital for 3 hours with food poisoning. Misery is all I can say! I've never had it before and don't wish it upon my worst enemy. Terrible stomach pains like someone was stabbing me, vomiting, diarrhea, fever, dizziness. Ugh!!
So, after a shot in the ass, and some drugs, I am not bent over into the bathtub or stuck to the toilet.
So I would say this was strike three for Chile Pepper! Not just that, I got my days off....but I'm not sure it was quite worth it!
Posted by Sissy at December 12, 2005 12:08 AM | TrackBack