October 26, 2006
Only Me
I got an email yesterday that said the shipment of my Salt Shaker Costume was voided. Not knowing what exactly that meant, I called the place I ordered it from today. He looked up my order and said that the shipment was damaged.
Me: What do you mean the shipment was damaged?
Rep: It says here that we attempted to contact you and that UPS damanged the shipment.
Me: I ordered that 2 weeks ago and no one has contacted me.
Rep: I'm sorry ma'am. And it says here that was our last one, we are sold out.
Me: How damaged is it?
Rep: Uhhhh....it says here that the UPS truck ran over it.
Ugh! Fuckers!
I've been all over Atlanta today looking for that costume with no luck. I've looked online. Most places are sold out and the ones that have it, I can't get it delivered on Saturday (which is when I'm supposed to wear it).
So I don't know what I'm going to do yet. I'm contemplating trying to make it. The picture doesn't look that difficult.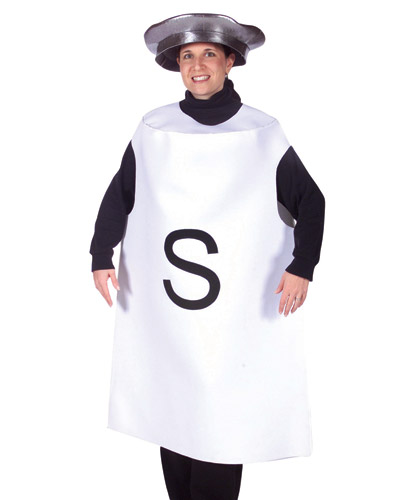 But if I can't make it, I'm not sure what to go as. I don't know anyone at this part other than the 2 I am going with, and I am not creative one bit!
I swear, this kind of shit only happens to me!
*UPDATE*
The costume is completed! 3 different sized cross stitch/quilting loops, tons of felt, some costume material. Morrigan and I with 3 hours of time, drinks and hot glue.
Looks great! Will post details and pictures soon.
Posted by Sissy at October 26, 2006 09:57 PM | TrackBack