June 21, 2005
Toys for Harvey
Bloggrandpa Harvey is celebrating his 2 year blogiversary and asked for toys!
Happy Blogiversary Harvey!
I'm sure Harvey is on some toy of the month club, so I was having a hard time finding something he didn't have.
I kept the receipts Harvey....but they've gotta be unused!
Unwrap 'em...
A Sit N Spin for future comment parties!


A life time supply of Halls!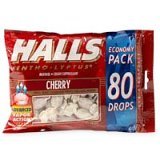 Another toy for the comment parties!


And finally, you need somewhere to keep all your new toys! A TOY CHEST!

Posted by Sissy at June 21, 2005 08:17 PM

»
Bad Example
links with:
BLOGIVERSARY PRESENTS (UPDATED 6-21-05 11:45PM)