July 24, 2005
Never Under Estimate Me! - Updated
I am staying up late tonight to get stuff done! One of things I did today was buy a desk.
The guy is loading it in my truck and says, "Make sure you have help carrying this in."
I laughed and said I would be doing it on my own. He said that it wasn't that cheap stuff, it was heavy. There was no way I could do it on my own.
Hmmm...that sounds like a challenge.
I have lived on my own, by myself for the past 6 years. I have moved on my own, driven cross country on my own, loaded and unloaded Uhauls on my own. I will ALWAYS find a way!
So I get home and back my truck into it's spot. I drag the huge box from the back and realize it is a little heavier than I thought. But I had no choice, I had to get it in the house! Wouldn't do me a lot of good sitting in the truck!
So, I dragged it about 10 feet. The bottom of the box is now tore up....but no biggy. Then I did the "lean on one corner walk" until I got down the 3 stairs to my front door.
Never tell me I can't do something!
I have the instructions out, getting ready to put the thing together, and it says:
To make the assemble easier and more pleasant, ask a friend to help you! 2 people required !
Haha! I will have a picture of this thing posted by morning!
*Update*
It is done! And with only ONE person!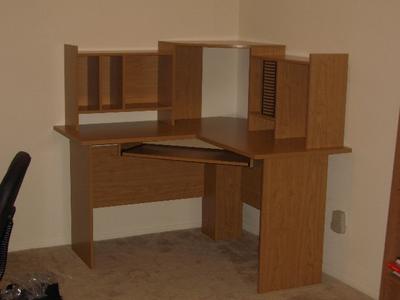 Tammi- There's 3 extra pieces. I'll bring them for the bonfire next time I'm up there. Don't tell Teresa ;-)
Posted by Sissy at July 24, 2005 06:42 PM | TrackBack